Announcing the addition of PRINT SUBSCRIPTIONS for tinyStudio Creative Life magazine!
I am Suzy Brown, aka Woolwench, and I have been publishing tinyStudio Creative Life magazine, quarterly, for over two years as a digital production. In this time I have created ten issues that are all big (120+ pages per issue), vibrant, and packed with the most inspirational content and stories from creators worldwide, and loved by readers globally as well!
I am joined in this venture by a small but shiny team with Evanita Montalvo – Customer Service, Photo Editor and Website Support, and Deborah Held as Copy Editor. I function as Editor in Chief as well as creating the layout and graphic design, finding content, marketing, issue planning, and basically jack of all trades in running the magazine.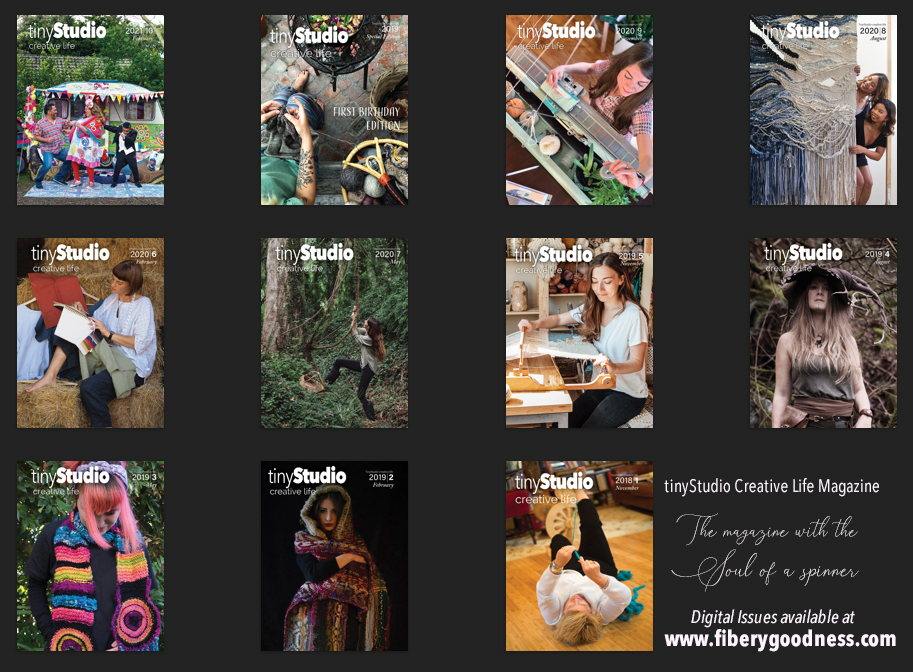 My Vision
My vision for tinyStudio is to continue to make a magazine for fiber artists and yarn crafters that speaks to your creative soul, which contains, and also goes beyond instructional information, taking you into the realms of potential fibery possibilities and inspirations. Through the stories, as well as the skills of tinyStudio contributors, we take you on a global journey into the lives and passions of people like you, who love to create with fiber, who bring their unique insights and creativity to the crafts they love, and we surround that story with beautiful images that you cannot help but be inspired by. Along the way you will learn how to make things as we share projects and patterns, you will gain new understandings of things like fiber preparation, dyeing, a wide range of spinning techniques from traditional to absolute art, and we do not limit ourselves to spinning alone, because we all love to dabble in a variety of fiber crafts! We also include articles on weaving, stitching, knit and crochet, and ways to help you make your own studio space creative and inspiring too!
The Goal
My goal is to bring this stunning magazine into the world as a print publication as well as digital! So many of us fiber artists are tactile people and LOVE the feel of a top quality magazine… nothing beats the sensation of opening the front cover, running a palm over the first page and soaking up the texture of the beautiful paper, it's almost as good as tasting the colours bursting from the page! I would love to share the wonderful experience of holding creativity in my hands through this printed magazine.
Format and Quality
I have found a print company in Europe that specialises in boutique, high quality indie magazines. You are going to love the look and feel of the paper, cover materials, and binding I have chosen, from the linen backed spine, to the stitched pages that will never come loose, and the 'lay flat' structure of the magazine that gives you a relaxed reading experience. I have also chosen a smaller size for our tinyStudio magazine, it measures 24cmx17cm, the perfect size for comfortable reading and easy fit into any project back (and bookcase!) We love the convenience and feel of this size that fits our hands so well, and there is no compromise on print size or images! This magazine print and binding is a craft in itself, beautifully made to last. I know you will love it too.
The Plan – First Print Publication Date
My big bodacious plan is to publish Issue 11 as our first Print and Digital issue! This is due for release at the end of May 2021, so now is a great time to subscribe, we are doing limited print runs so there may not be single copy print issues or print back issues available, however, ALL issues will be available as digital back issues.
All new subscriptions (print or digital) will also receive a special 'early access' to our brand new 'Special 2nd Birthday Edition', filled with a collection of content from our 4, 2020 issues. Your download link will be sent in your confirmation email when you purchase your print subscription, so there will be plenty of reading to keep you going till May!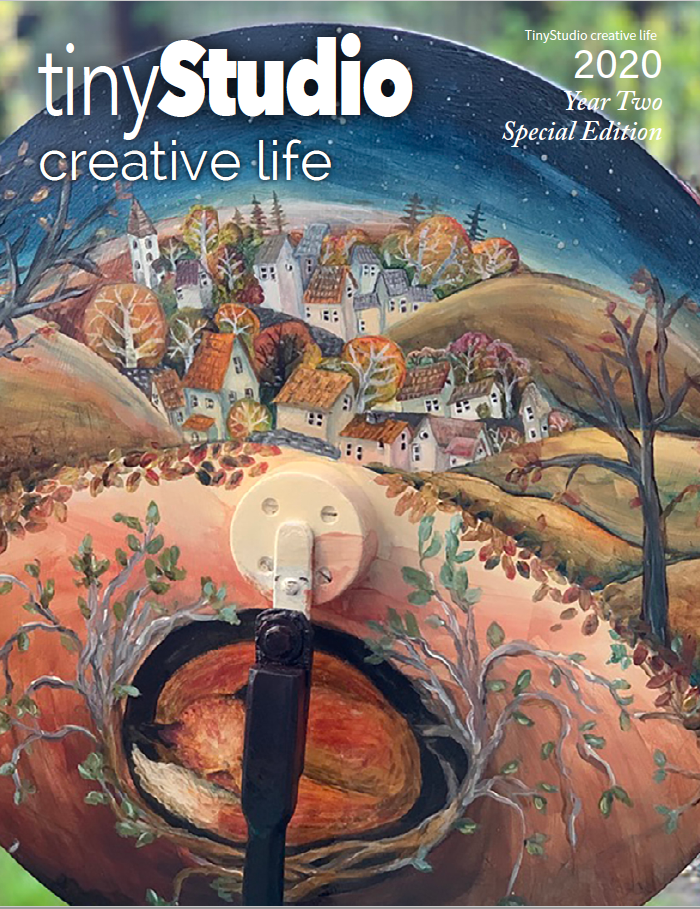 THE PRICE
In order to go ahead with my Print Issue offering, I will need to be sure of my ability to cover all the costs and associated expenses involved in production, print, and global distribution of tinyStudio Creative Life magazine, at least for the first full year. It is necessary to print a minimum number in order to get a print price that is within an acceptable range. This means that we need to reach enough subscribers to break even on the costs of publishing all four issues of our 12 month subscription.
Did I tell you that your subscription ships free to anywhere in the world?!
The annual subscription price is US$80 for a whole year of tinyStudio (four issues) with free global shipping.
It comes packaged to you from our printers in Germany, safe and secure in padded card (recyclable) sleeves that protect your precious issue perfectly en route. I know when you hold this beautifully crafted, boutique magazine, you will feel that you are holding inspiration in your hands in a format you will treasure!
Currently we are running this on a LIMITED PRINT RUN, subscriptions will be closed if, or when we reach the maximum number of copies to be printed.
Click here to subscribe to print!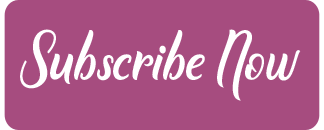 Here is an overview of what you can expect from your print subscription!
Digital Issue Package
We love all our digital subscribers and have appreciated your support and love of the magazine over the last two years. If you are a current digital subscriber and want to stay that way, do not worry, you absolutely can! Nothing will change for you except I will be making our fortnightly tinyStudio TV videos monthly, due to extra workload with print, but I promise to continue to share tutorials, chats, and special guests as part of our Digital package! In fact I also have some fun plans for Digital subscribers during 2021 😉
Already a Digital Subscriber?
If you are a current digital subscriber you can also purchase a print subscription as a separate option, I know many of you have been waiting for print too! If you wish to continue your Digital package as well, you can also take advantage of our special offer for print subscribers only, which allows you to purchase the Digital Package at the reduced rate of US $2.95 a month instead of the Digital only price of $4.95 monthly. You will receive instruction on how to change your digital subscription following checkout for your Print Subscription.
PLEASE NOTE:
In the event that we do not gain enough subscribers to break even, we will go to Plan B, which will be to refund your subscription in full and continue with digital, perhaps returning to print at a later date. If we get close but not quite to our break even goal, we will postpone the first print issue – subscribers will then receive Issue 11 as a free digital issue, and the first Print Issue will be moved to Issue 12, giving us time to gather some more subscribers! So the more widely we can reach people the better chance there will be of reaching our break even goal and printing Issue 11!
TESTIMONIALS
What have people been saying about tinyStudio?
I love tinyStudio magazine- it is full of informative articles and inspiration for fiber artists. It has given me reasons to try different things that I wouldn't have known about otherwise, and my spinning abilities have grown a lot thanks to tinyStudio! (Megan Brackett)
Each issue is packed with stunning imagery, inspiration, and insight from fiber artists around the world. This is a must-have magazine for all fiber lovers. I cannot wait for the print version to be available! (Carla Ensink)
My first Tiny Studio Magazine inspired three projects! That's a mag that is a Keeper! (Su Jolly)
---
Thank you so much for supporting our dream to inspire! Thank you also to the support of our Sponsor Majacraft!
-Suzy, Evanita, and Debbie