We were so happy with our Issue 8 release, and we had so much content we just couldn't fit it all in! So we will be running a new series of Guest posts right here on the blog for everyone to enjoy!
Today I would like to welcome Audrey Busby who wrote this fascinating article about the Shave 'em to Save 'em initiative. The preservation of rare sheep breeds is really important, as it bring us ongoing learning, a wider range of fiber and fleece types, and often also helps to maintain the traditional crafts that the fiber from these sheep were used for.
---
The Shave 'Em to Save 'Em Initiative
Spice Up Your Fiber Life
by Audrey Busby
Maybe you've briefly heard about the Shave 'em to Save 'em™ program in the USA, or have seen their logo somewhere and wondered, what is this program really all about? Shave 'em to Save 'em, a program hosted by the Livestock Conservancy with funding from the Manton Foundation, is geared toward bringing fiber artists and fiber producers together. The Livestock Conservancy strives to keep heritage and endangered breeds from extinction through education and programs like Shave 'em to Save 'em. All sorts of livestock are on conservancy list, anything from horses to hogs, turkey to goats and they all need our help to survive.
To keep the endangered breeds of sheep relevant, the Livestock Conservancy is giving them a "job" while also creating a source of income for the shepherds who raise them. Fiber producers now have a program that allows them to sell wool to fiber artists in the form of raw wool, roving, batts, yarn, etc., more easily than before. Where previously these shepherds may have just thrown out or composted the wool, they can now help support their flocks by selling wool or wool products to fiber artist interested in both expanding their horizons and supporting small farms.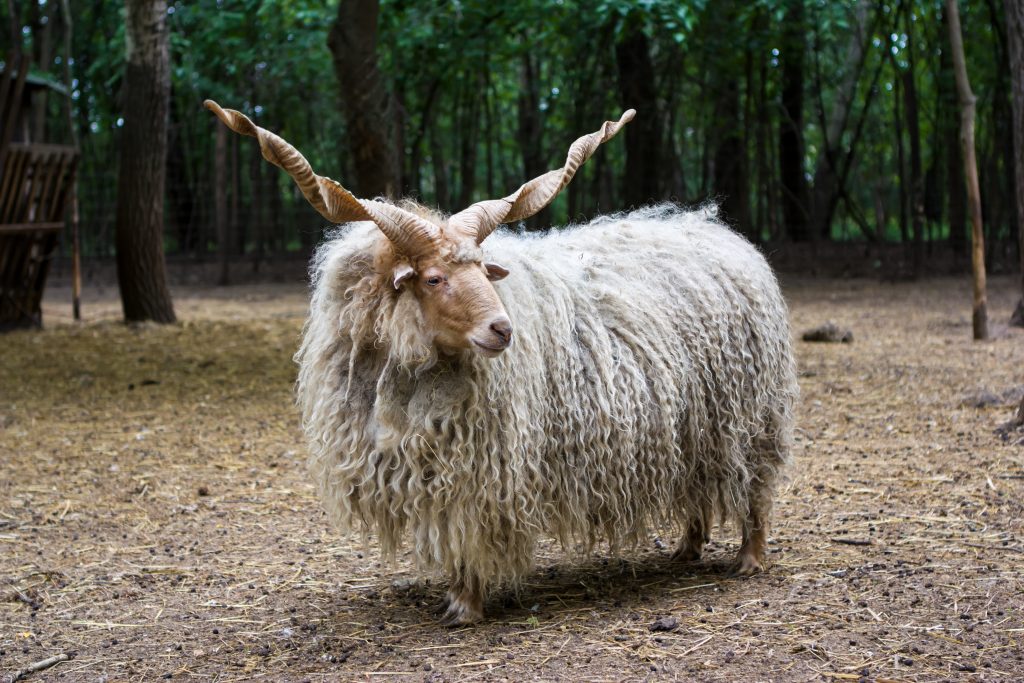 Getting involved in the Shave 'em to Save 'em program as a fiber artist is simple and incredibly fun.
The first step is to head to the Livestock Conservancy's website http://livestockconservancy.org and navigate to the Shave 'em to Save 'em program, under the "Get Involved" tab. Sign up as a fiber artist, it only costs $15 to join this program, and a short time later you will receive your fiber passport and a Shave 'em to Save 'em pin in the mail.
The fiber purchase for each breed will follow several easy guidelines. The wool must be purchased from an official provider that raises a registered conservancy breed flock and you must purchase 4oz or more of the breed in any form: raw, washed, roving, yarn, etc.
The fiber purchase will come with a sticker to include in your passport with the breed, farm name and purchase date. Now it is time for the fiber adventure to begin! There is a list of fiber providers on the conservancy site, but there are other resources as well, such as the Shave 'em to Save 'em Facebook page or even Instagram if you know how to look. Meeting the producers and purchasing the fiber is one of the most rewarding parts of the program. It is fascinating to learn about the sheep, how they are cared for, what their original purpose was, the different colors they can come in, and my favorite part, the sheep's name. Not all shepherds name their sheep and not all record the sheep each fleece came from, but I love knowing the sheep's name when possible.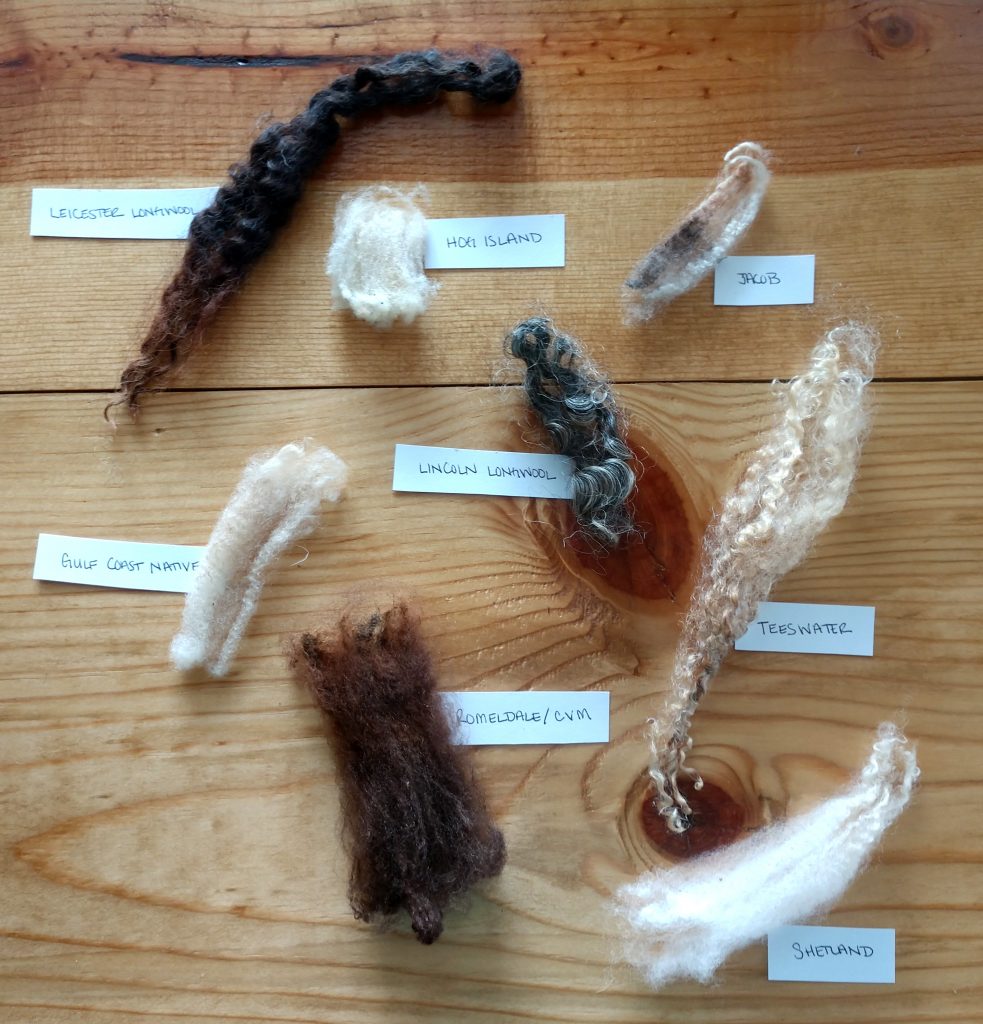 Once the first bit of fiber is acquired, it is time to create! In order to fulfill the project guidelines, you must take your 4oz or more of fiber and create a project with it. Your project could be taking raw wool or roving and spinning a skein of yarn (but this wool cannot be blended, it must be 100% of the breed of sheep you are working with) or a knit project, felting project, weaving project, etc. A non-spinning project can use more than one breed of sheep if each yarn is only one breed (for example, a striped sweater with each stripe color being a different breed on the conservancy list).
When the project is finished, take a picture of it next to your passport with sticker and post it to the Shave 'em to Save 'em Ravelry Group and Facebook page. Then email the conservancy. When you complete 5, 10 and 15 projects you are eligible for some great prizes through the conservancy! There are 22 breeds on the conservancy list and in the passport, with the chance to earn up to three great prizes. This program gives you a fun reason to support theses amazing sheep breeds as well as expand your knowledge and skills as a fiber artist. The Shave 'em to Save 'em program was originally designed to be a 3-year program: as both a fiber artist and provider, I, and many like me, hope that this will be transformed into a continuous program.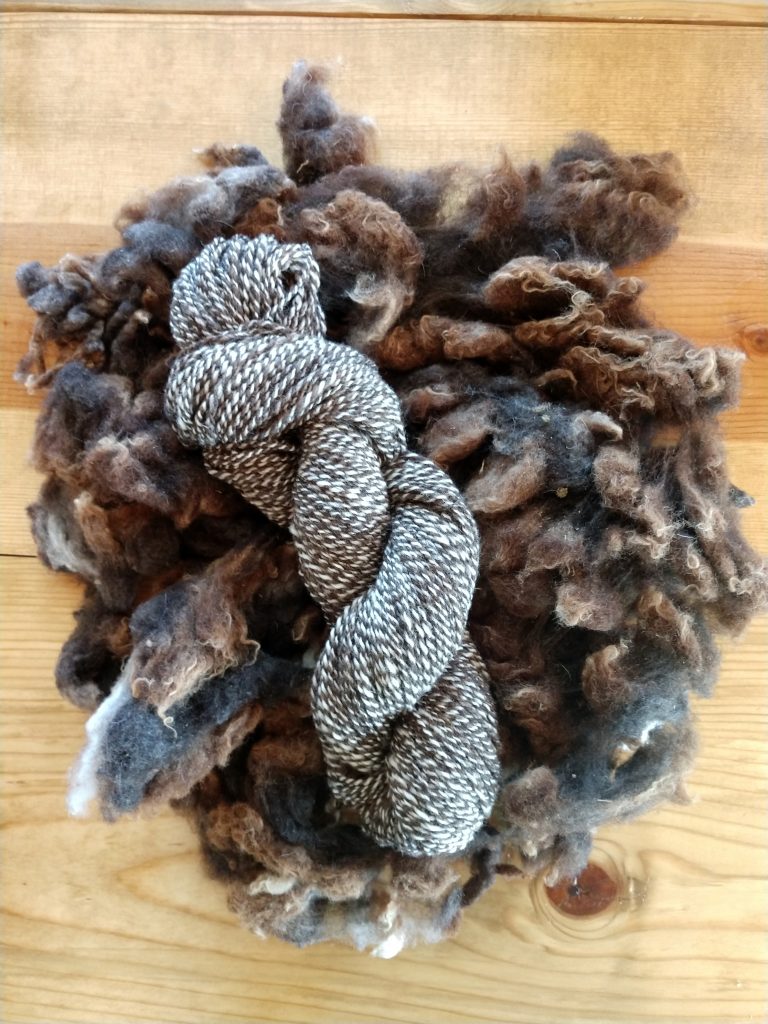 As a fiber artist, I am slowly working through the breeds and learning so much along the way. I'm working with wool I never would have before but most definitely will work with again in the future! My most interesting experience to date with Shave 'em to Save 'em wool was my Leicester Longwool spin. This breed was by far the longest staple length of any wool I have worked with; approximately 9-12 inches (23-30 cm) in length. As someone who has a happy comfort zone of fine wool breeds with a 3-4 inch staple, I was completely out of my element which was both scary and exciting. I bought about 2lbs of premium wool locks of this breed, separated the locks and carefully washed them because I still have an intense, usually unfounded, fear of my wool felting. The locks were a deep, rich chocolate that faded into a beautiful caramel at the tips. I prepped my fiber and set to spinning. I finished with a final project skein that was a two-ply yarn weighing just under 4oz. I think my skein turned out beautifully and I was so inspired by the spin that I hope to find and spin more than just the heritage breeds on the Shave 'em to Save 'em list.
My advice to others looking to participate in this program; dive in, it is an amazing experience. Talk to the fiber providers, ask about their farms and the breeds they cherish so much. Each one has a story that, usually, they are more than willing to share with you. You can form a deeper connection with the fiber you are using for your project, whatever it may be. When you purchase wool, don't be afraid to ask questions, especially when purchasing raw wool that you will be prepping yourself. As I mentioned earlier, I love knowing the name of the sheep my wool came from. Even more exciting is if you get a picture of the sheep too! We all have budgets, no matter how much we wish we didn't. I would recommend purchasing about 1lb if you are purchasing raw wool or stick to the 4oz required if you are purchasing roving or yarn, unless of course you have a large project in mind that may need more. In the beginning of this program I thought I was going to purchase a whole fleece of each breed. I quickly learned that this would be costly, time consuming and take up the remainder of my storage! I have since decided to purchase one pound, when possible, of each breed to work with and document the journey.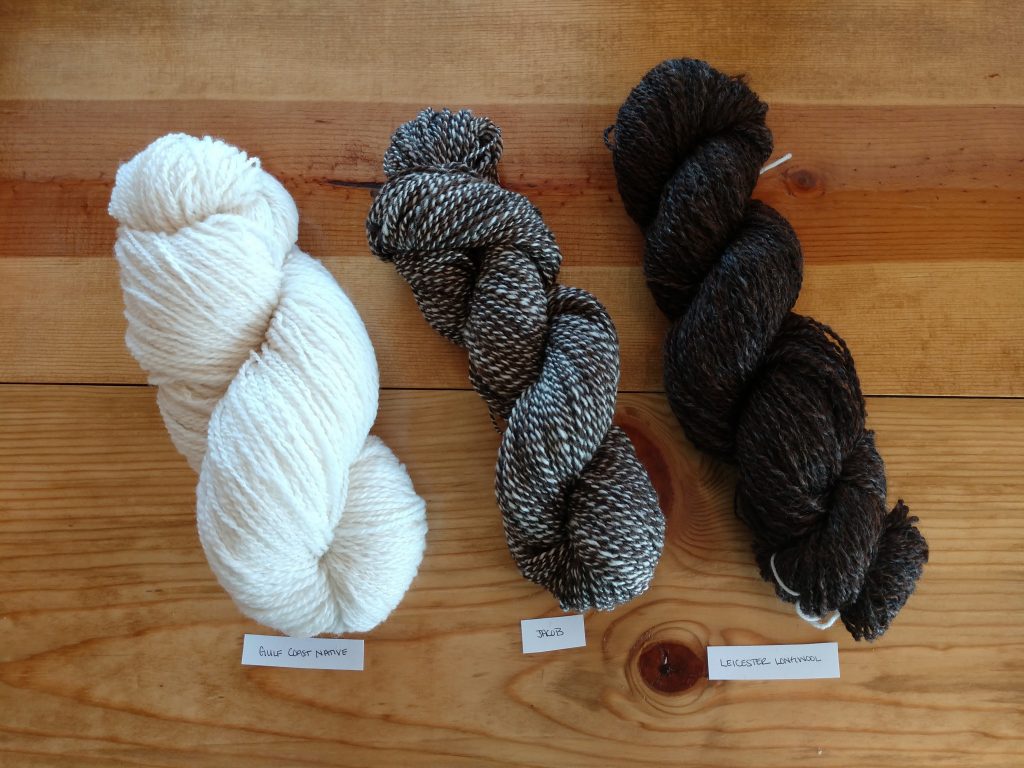 One breed that I do not have to worry about acquiring a single pound of wool from is the Romeldale/CVM sheep. They are listed as threatened on the conservancy list and are one of the lucky breeds that has been slowly on the rise thanks to their stunning wool, lovely demeanor and hardiness. I raise my own small heritage flock at my farm, Flock and Forge Farm in Central, Ohio, which allows me to participate as both a fiber artist in the program as well as a fiber producer. I have a small flock that I maintain which comprises of 15 or fewer sheep at any given time. While I would love to have more, their care is of the highest importance to me and my small farm pastures would not support more sheep, nor would my time allow it.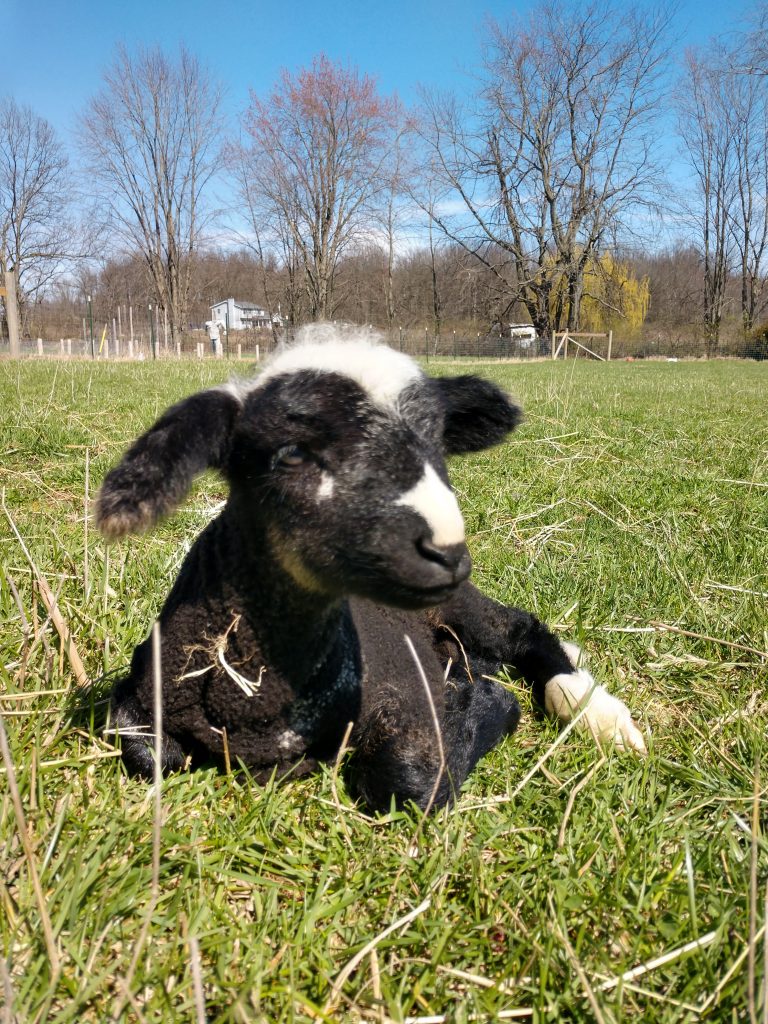 The Romeldale/CVM (California Variegated Mutant) originated in California in the early 1900s when Romney were crossed with Rambouillet creating a medium-large, dual-purpose breed with wonderfully soft wool. Later, in the 1960s, a mutated color strain was discovered in a flock producing a unique, badger face characteristic.
These sheep are friendly, docile and come in a beautiful array of color and patterns. It is always exciting at lambing time to see what sort of color and pattern may be added to the flock, this year I had an all-black lamb born with 3 white socks, a white diamond on his head and small white spot on his nose. I also ended up with all rams this spring, all but one were banded and will hopefully find wonderful fiber homes.
I keep my flock coated, as I raise them specifically for their wool. I have a limited number of lambs each year that I typically sell to fiber homes along with my fleeces to help pay for a years' worth of hay for the flock. To make the expenses of my flock more manageable, I, like many other shepherds, do my own vaccinating, worming, banding, docking, hoof trimming and even shearing. Keeping my small flock is both challenging and rewarding. There are ups and downs, incredibly happy moments and equally sad moments, but helping to save this wonderful breed makes everything worth it.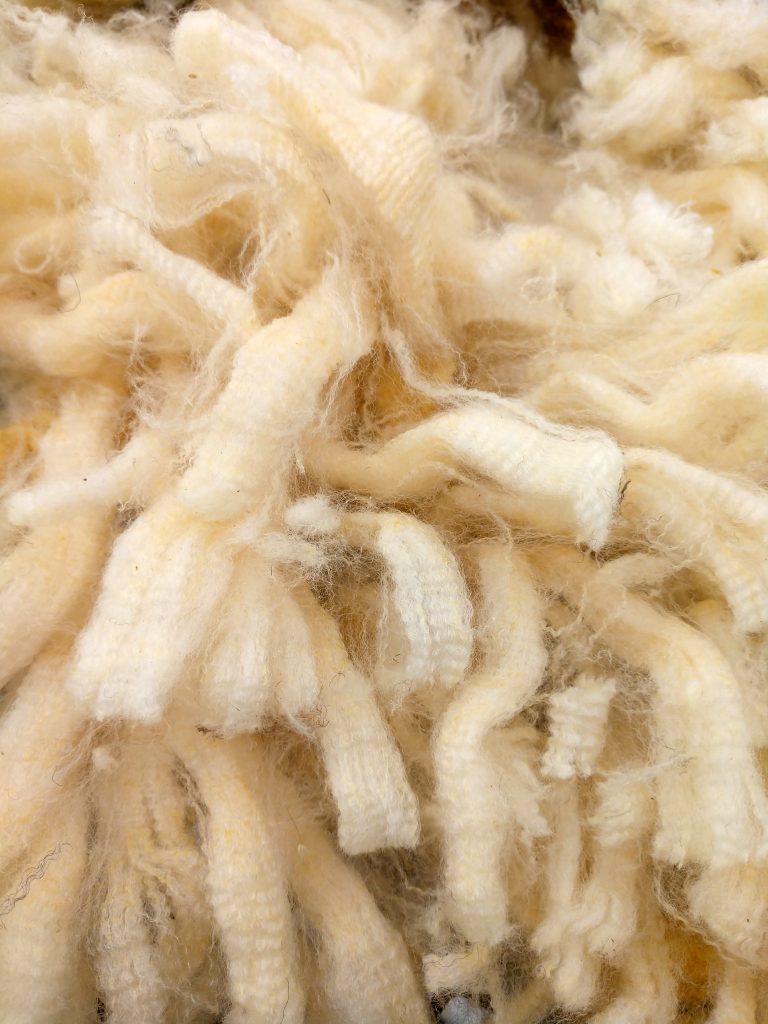 Website: www.flockandforge.com
FB: Flock and Forge Farm
IG: @Flockandforge
Email: Flockandforge@gmail.com
Flock and Forge is located in Ashley, Ohio, USA. Audrey also runs wool preparation, spinning and knitting classes.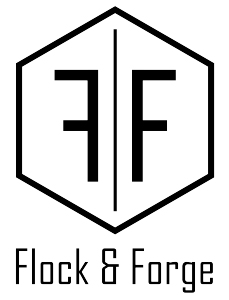 This blogpost and Issue 8 of tinyStudio Creative Life magazine was sponsored by our lovely friends at Majacraft!