Let me begin this with explaining that I am not a minimalist. I would like to be but I find living with other people (the family) nullifies any attempt I make at creating a simple, sparse, minimalistic environment. As well as this, my own activities deny me the opportunity for the 'perfect' clean, white, spacious studio of my dreams and rather, drop me in the midst of stash fiber, cones of yarn, tools, paper, drawing equipment, weaving looms and tools, drying racks, books, and other miscellaneous treasures. (Did I mention I have four pencil cases… er.. boxes..?) Then there are the trinkets that I enjoy having around me, fun, cute, inspiring, useful…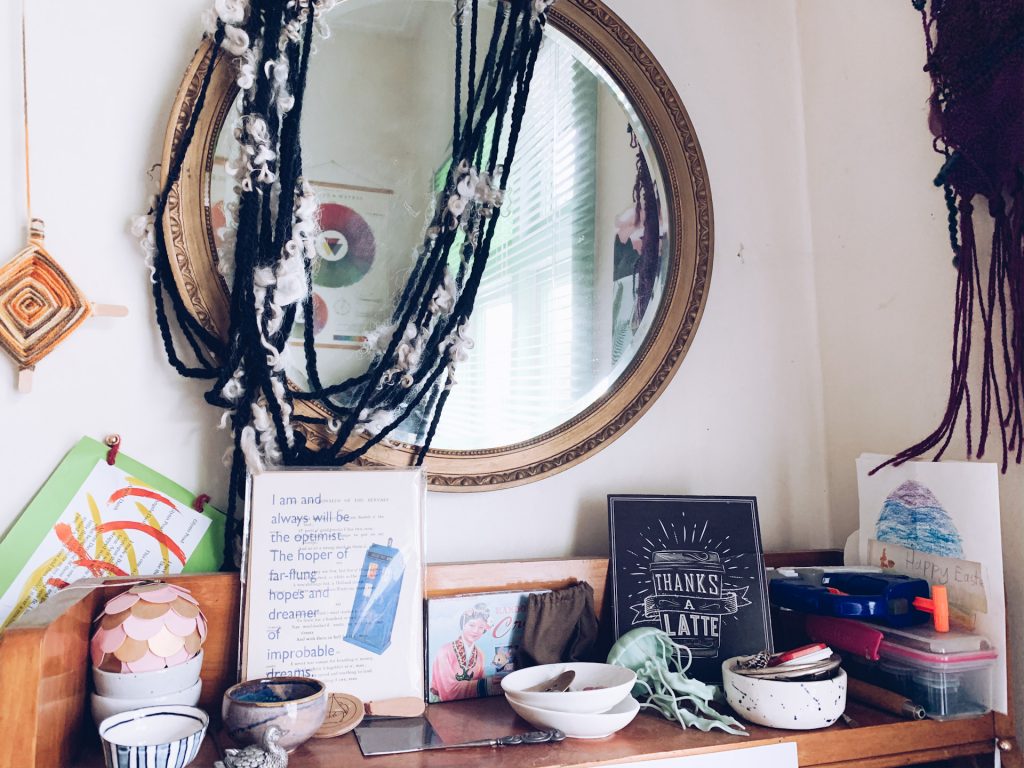 None of these things are especially necessary to my fiber work or magazine production but I love them!
So how does all this relate to minimalism?!  If you have not yet read the free ebook 'tinyStudio Creative Life' available to download on the website (or purchase through Amazon) let me just offer you the following quote from it:
"A tinyStudio creative life is not about finding out how little you can live with in your creativity, it is about finding and celebrating the exact things that you cannot create without!"  (page 8)
This is what it is all about for me. Surrounding myself with (only) the items I need, the tools that do the jobs I need them to do for me, the fibers I love to spin the most, the dye colours that make my heart sing, and the yarns I have created from them all. And then I love to fill my studio space with inspiration, images on the walls that say something to me, pretty strings of coloured lights, bookshelves adorned with more yarns and filled with books of which each and every one of them makes me want to be MORE creative when I pick them up and flip through the pages.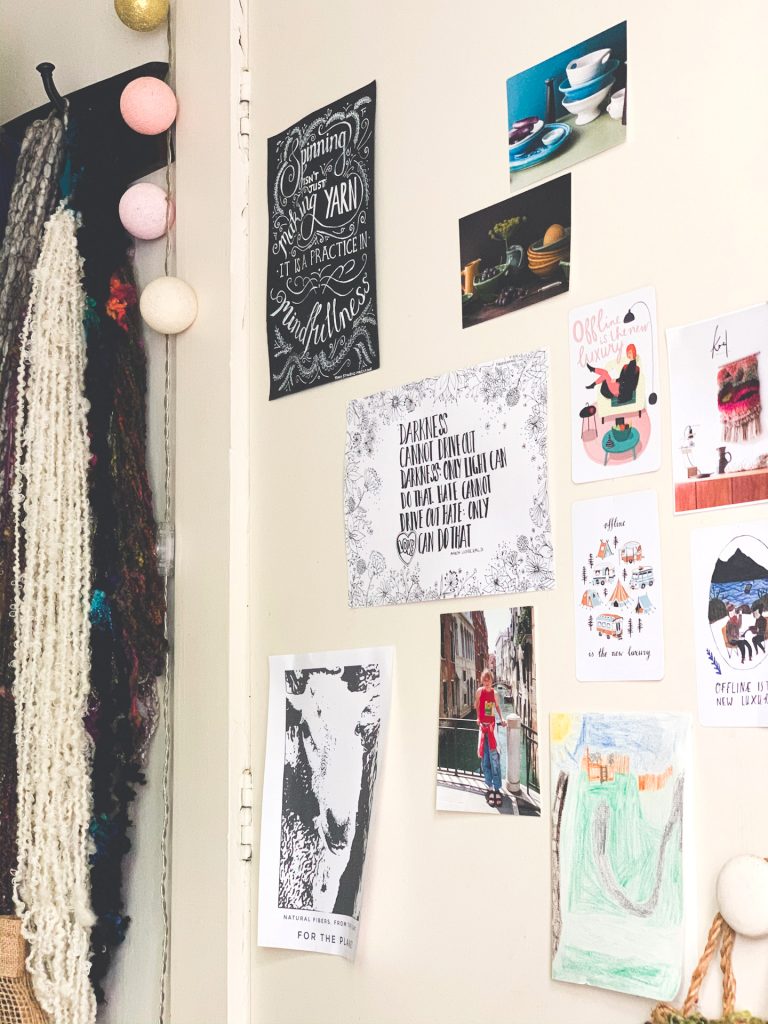 This is far from the austere starkness we often associate with minimalism because, lets face it, as a fiber artist I love colour, texture, tactile and visual stimulation, and I have maybe something of a hoarder personality when it comes to anything fiber related…
So this is how I marry that up with my desire to be free to create. I strongly believe that in order to experience creative freedom I need to be unburdened from the weight of more possessions than I can use, clear of clutter so I can move freely through my studio and simply create without need to tidy or move things, and organised enough that I always know what I have and where to find it!
Experimentation is a big part of my personal creativity style, so I like to have something of everything in my stash, or at least enough range to be able to select from a variety of fibers to try out new ideas, because as we all know, fiber and fiber prep is a vital part of yarn design. However we can also keep in mind that not always having exactly everything we need CAN lead to innovation as we problem solve our way through, so there is no need to stress about having 'enough' – making do with what you have on hand can also be a great way to find new ways to do things! I tend to have a basic variety of fibers on hand and try to keep my stash both organised and manageable, but I DO keep a stash 🙂
I have also learned which tools I need, which ones I use often and which I love to use and couldn't do without! My toolbox is organised and ready to pick up and take to a spin day and also easy access when at home.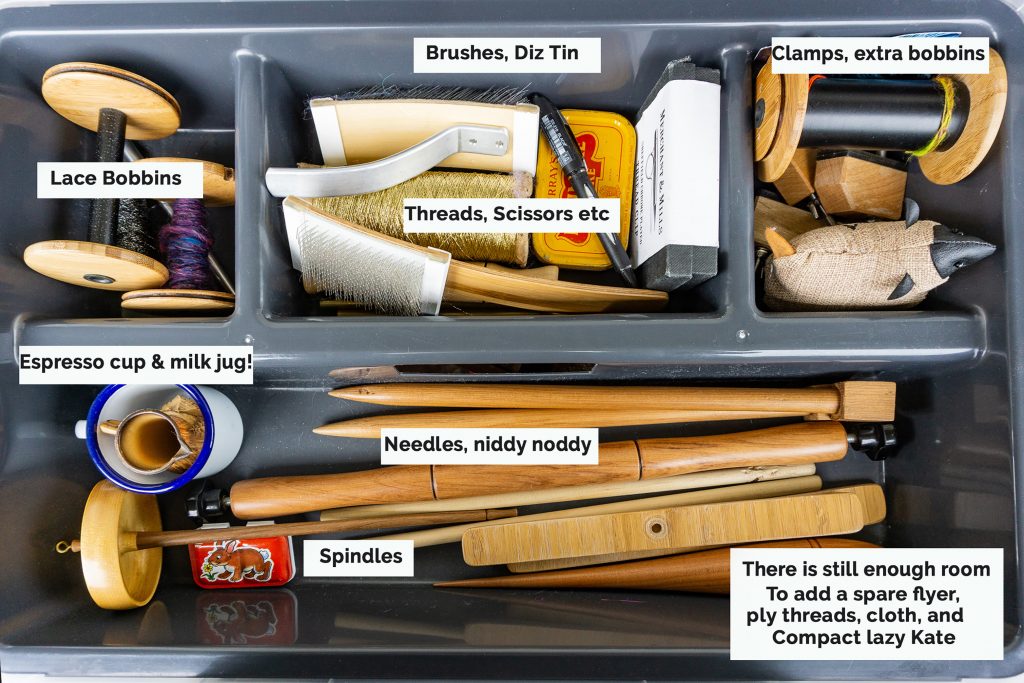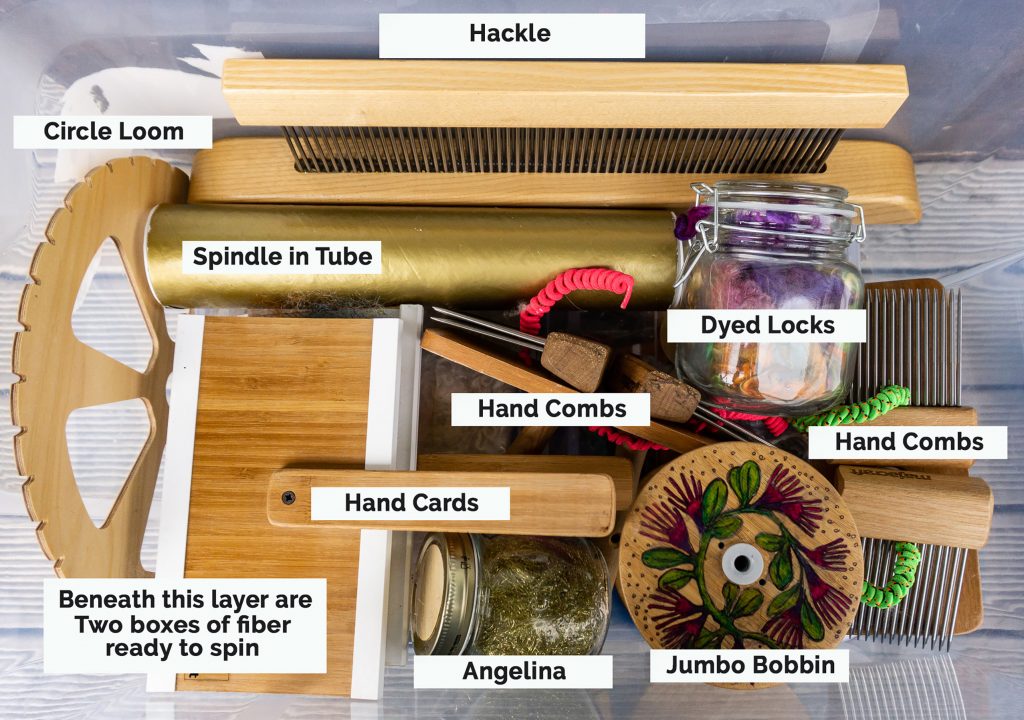 So for my fiber studio, the key for me is a style of minimalism in which I have simply minimalised my studio down to just the things I need, and have designed it to retain a space to work in where I do not feel constricted or confined. My tools are easy to access and use and my stash is adequate if not bulging 🙂 I have also made the conscious decision NOT to feel guilty or inadequate if my space does not match up to some of the amazing yet far more 'minimal' studio spaces I see in other magazines or on Pinterest! My studio is ecclectic, somewhat busy, and is home to me – comfortable as well as inspiring! This is what tinyStudio minimalism means to me 🙂