I was thinking this week about all the different things I love to do with technology as it relates to fiber and realized this is a subject that I've never written about previously, but that I would very much like to write about on occasion.  So, welcome to my new somewhat irregular column, "Fiber Tech" where I'm going to explore different ways to increase your fiber fun via technology.
This is a topic that I guess I have been taking very much for granted because for starters, here we are…I'm writing in my pajamas in my bedroom on my laptop and after I push "publish", people from all over the world, the majority of whom I have never met or may never meet in person, will read this.  And, I've been having that experience in some form or fashion for over five years as it relates to writing about being passionate about handcrafted textiles.
And, that is the experience of so many of us now.  We read blogs and websites.  And, then, we get to share our fiber lives through an ever increasing number of social media outlets such as Facebook, Instagram, Twitter, Google Plus, and of course, Ravelry to name a few.  Personally, all of my fiber friendships began somewhere on the internet and then evolved into amazing "real life" friends.  In fact, most significantly, for me, is this website…Suzy and I met over the internet (a story for another time), and we worked together for almost a year on Fibery Goodness before actually meeting in person.
For this first Fiber Tech post, I'm going to focus on some of the iphone apps that I really like that have become part of my "fiber world".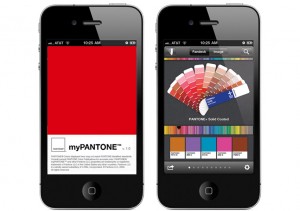 For starters, there is "myPantone".  I got this one recently based upon the recommendation of Esther Rodgers aka JazzTurtle Creations.  This one was a splurge at $9.99 but it really is a lot of fun for me.  I've made no secret that I'm a color junkie so this app is right up my alley.  The app allows me to take a picture of anything and then pulls out the colors of the picture complete with the applicable Pantone equivalents (see this post where I write about Pantone's color of the year).  I love taking pictures of random things, pulling out the colors and then working the color scheme into my dye pots, batts, or weaving projects.  You can also email, share, or print the palettes as well as send them to other devices.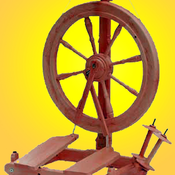 Another fun app I like the iSpinToolkit for $4.99.  This handy little app includes a twist angle measuring function, a WPI gauge, a series of calculators and a TPI gauge!  Very handy.  I have to thank Jolene Mosley of Sheep Cycle for recommending this one to me.
As a knitter, having a good stitch dictionary on hand is invaluable and when I get stumped I turn to the knittingfool website.  It is not an app, but you can save the site to the home screen on your phone.  This site contains fantastic and FREE information.

But, what about a weaving app, Arlene?  Good question…there aren't many.  There is one excellent one:  iWeaveit.  This program has been available for a number of years and sold as software and now available as an app.  This is a great product, but for an app, at first, it seems pricey at $22.99.  However, it is a very robust program and when you look at what you are getting, it is worth it.  If you are into traditional weaving and creating complex weave structures, this one is for you.
There are some other weaving apps too that I am not going to mention by name here.  If you search the itunes app store, you will quickly see them that are a rehash of various youtube videos, etc. that can be found on the internet for free but are packaged for 99 cents as an app.  The bundle of techniques include Suzy's Circular Weaving tutorial which made me sad, frankly to see someone else monetizing Suzy's hard work and creativity.  Unfortunately,  this is the world in which we live.

Lastly, I'm going to leave you with one of my recent not so guilty pleasures that enhance my fiber experience and that is of course what I listen to when I'm in my (what Suzy calls) "fiber bubble".  And, that is the podcast, Serial.  The first season is a twelve episodes involving a murder case that occurred in Baltimore, Maryland (my "stomping grounds").   The story is told very well with many twists and turns.